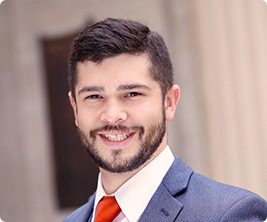 John Romero
CASE MANAGER
Nashville Personal Injury Lawyers TN
John Romero joined Jeff Roberts & Associates in 2016 as a Case Manager while attending the Nashville School of Law. He assists Jeff in file management, helping keep the firm's client cases moving through the system to finalize successful outcomes.
John was born in the beautiful town of Savannah, Georgia, but moved throughout his childhood, as his dad was a career service man. He studied hard at the University of Tennessee at Chattanooga, and graduated Summa Cum Laude, with a major in History, and a minor in Spanish.
In his free time, John enjoys running, mountain biking, climbing, shooting and golfing. He also likes the Nashville scene for its live music. His favorite bands are Phish and Widespread Panic.